Northstar provides facility service needs to the world's largest companies.
Northstar offers turnkey services from facility response, hazardous material abatement, and D&D to total demolition. Our people have decades of combined professional experience that is unmatched by anyone else in the industry. We are also able to be on site quickly after disaster strikes. With rapid personnel acquisition capacity and the largest fleet of heavy equipment in our industry, we can get your businesses back online as rapidly and with as little interruption as possible.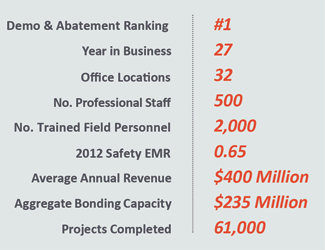 Mission Statement
Northstar's mission is to exceed client expectations with the most cost effective, schedule efficient, and highest quality environmental remediation and facility services available nationwide.
Our History
Headquartered in New York, NY, LVI was originally formed in 1986 to provide abatement services to an industry generating significant growth in response to new environmental legislation.
By the early 1990's, LVI had grown to seven offices and established its national presence. At that time LVI began to implement its diversification strategy through several tuck-in acquisitions that strengthened its national footprint and service capability for national clients.
By expanding service offerings to a broad range of remediation services and adding deconstruction and facility response capabilities including decontamination & decommissioning, infection control, fireproofing, and emergency and disaster response, LVI quickly became a top-ranked full service contractor.
Recently, LVI acquired two specialty companies – Pioneer Maintenance & Erectors, a millwright and rigging company headquartered in Pennsauken, New Jersey and Randolph Construction Services, a specialized design-build contractor headquartered in Richland, Washington.
Pioneer offers its capabilities for installing complex mechanical systems and equipment dismantlement support, respectively, with emphasis in baggage handling systems at the nation's airports. Randolph is capable of delivering one-of-a-kind industrial, commercial and federal facilities both domestically and abroad. LVI provides design-build services primarily to the federal government through the Department of Homeland Security, U.S. Army Corps of Engineers and the National Nuclear Security Administration with an emphasis in border security facilities.
Today, LVI executes approximately 5,000 projects worth $400 million annually ranging in size from short-term disaster clean-up projects to large-scale, multi-year contracts with public and private sector clients, including many Fortune 500 companies. For over a quarter century, LVI has built an excellent reputation. Our dedicated team emphasizes job safety, client communication, and solving complex issues in innovative ways.