COMMITMENT TO SAFETY

Safety and regulatory compliance are of paramount importance to NorthStar. Safety is a competitive advantage for NorthStar right at the top of the list along with quality work, on time and on budget. In many cases, our health and safety requirements exceed OSHA and other industry standards. At NorthStar the personal commitment of each of our employees to do their best work includes working safely.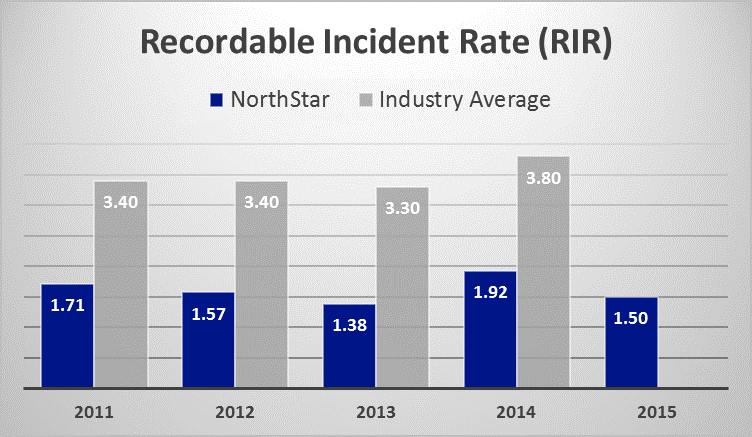 As a result, our safety performance demonstrates continuous improvement, and consistently and significantly outperforms industry benchmarks. Between 2004 and 2015, our recordable and lost-time incident rates declined by over 80 percent.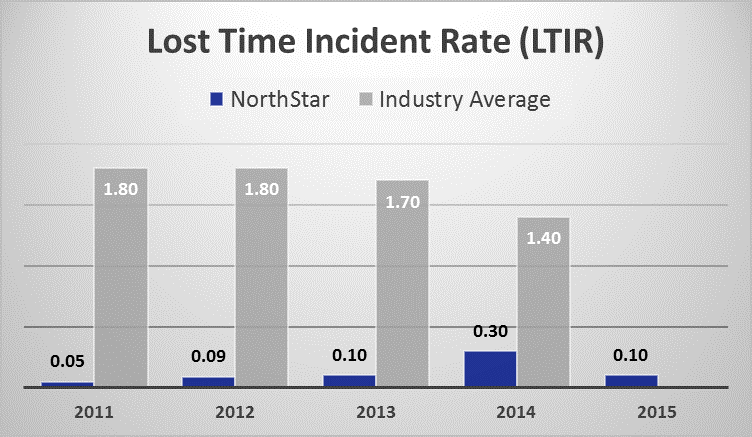 NorthStar's training and guiding our people in the safe handling of potentially hazardous materials and conditions. We employ more than 30 health and safety officers, and our branch and project management teams are hands-on with safety inspections and training (including 30-hour OSHA Construction Standards, Corporate Safety Manual and First Aid/CPR training for our front-line supervisors).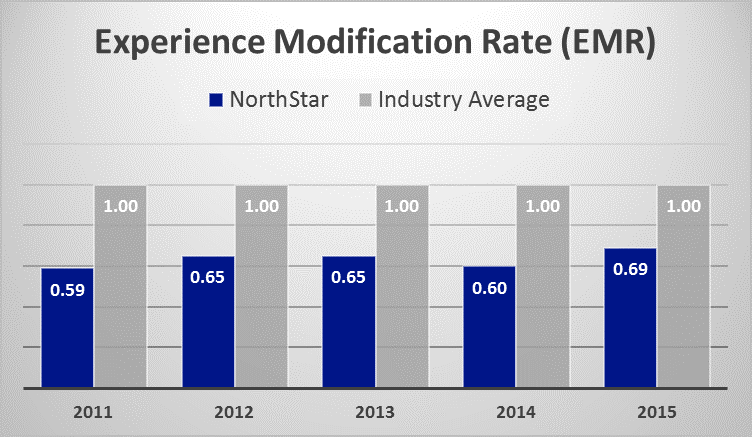 Safety Programs That Deliver Results
Our safety programs are wide-ranging and flexible, with the ability to incorporate industry- and site-specific requirements for behavior-based safety, lockout/tagout, subcontractor safety, etc. We have industry-leading programs in a number of areas, including:
• Job safety analysis to identify, analyze and control potential hazards or risks associated with specific job tasks and equipment operation, and then ensure that all precautions and protective equipment requirements are in place.
• Comprehensive approach to fall hazard assessment, including formalized fall arrest plans for every project.
• Line-of-sight supervision requirements to ensure that work is done within sight of a supervisor or foreman, and every incident investigation we conduct addresses this requirement.
• Safety incentive plan, which provides significant financial incentives to workers, lead foremen, supervisors and site safety officers who maintain high performance in the areas of compliance, safe behaviors and injury prevention.
No matter how challenging the work or working conditions – and we take on some of the most difficult projects in the industry – the commitment to safety is consistent and evident on every one of our projects. Our employees and clients expect and deserve nothing less.
Download the table of contents for our best in class safety manual.